Trang
1
trong tổng số
1
trang •
Share
•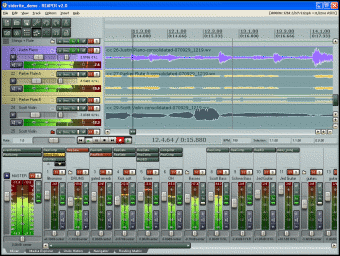 About REAPER
REAPER is a fully featured multitrack audio and MIDI recording, editing, processing, mixing, and mastering environment.
REAPER is reasonably priced, requires no dongle, has no copy protection, and can be evaluated with full functionality.
64 bit audio engine and signal path end-to-end
Excellent low-latency single and multiprocessor performance and stability
Built-in high quality 64 bit audio effects include unlimited multiband EQ and compressor, oversampling technical compressor, convolution reverb engine, real-time pitch correction, and a dozen others
Portable - supports running from USB keys or other removable media
Supports almost any audio interface or outboard hardware, most control surfaces
Tightly coded - installer is only a few MB
Rapid, efficient development - new features and optimizations are added quickly and often
For more information on the developer of REAPER and its modestly altruistic goals, visit Cockos Incorporated.
Extract (with a PortableApps folder at the device's root) and run ReaperPortable.
Settings of installed Reaper should be preserved.
Download:
_________________
Website: (
[You must be registered and logged in to see this link.]
Forum: (http://forum.phamduyminh.com)
(http://diendan.phamduyminh.com)
Let's share to be shared.
Hãy chia sẻ để được sẻ chia.
PostReply to see hidden links.



Tổng số bài gửi

: 2887


Points

: 5567


Reputation

: 83


Join date

: 12/09/2008


Age

: 37


Đến từ

: http://diendan.phamduyminh.com





Similar topics
---
Trang 1 trong tổng số 1 trang
Permissions in this forum:
Bạn
không có quyền
trả lời bài viết