Trang
1
trong tổng số
1
trang •
Share
•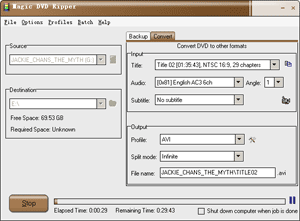 Magic DVD Ripper is a very easy and powerful DVD ripping software, which can convert DVD to VCD, SVCD, AVI(DivX), WMV, MP3, iPod and PSP formats or backup DVD to hard drive without any loss of quality. You can then enjoy them anytime without DVD discs or burn them to blank DVD or CD discs using burning software.
Compared with competitors, Magic DVD Ripper has both convert function and backup function combined with faster ripping speed. While other software may be unable to rip some certain DVDs or yield unsync audio/video, Magic DVD Ripper almost always functions perfectly.
Extract on hard disk or USB key and run MagicDVDRipperPortable.
If you run MagicDVDRipperExportLogPortable it will save RipperLog compressed in gz format when leaving.
Settings of installed MagicDVDRipper should be preserved.
Download:
_________________
Website: (
[You must be registered and logged in to see this link.]
Forum: (http://forum.phamduyminh.com)
(http://diendan.phamduyminh.com)
Let's share to be shared.
Hãy chia sẻ để được sẻ chia.
PostReply to see hidden links.



Tổng số bài gửi

: 2887


Points

: 5567


Reputation

: 83


Join date

: 12/09/2008


Age

: 37


Đến từ

: http://diendan.phamduyminh.com






Tổng số bài gửi

: 8


Points

: 8


Reputation

: 0


Join date

: 17/09/2009





Similar topics
---
Trang 1 trong tổng số 1 trang
Permissions in this forum:
Bạn
không có quyền
trả lời bài viết